Welcome to Magic Resin
Discover top-quality clear epoxy resin at Magic Resin, perfect for coating and casting applications such as table tops, bar tops, counter tops, river tables, and any artistic project you can imagine.
As experienced woodworkers, we've long utilized epoxy resin and sought to enhance existing solutions by offering high-quality, competitively priced products proudly made in the US 🇺🇸.
Committed to excellence, we prioritize efficient delivery and exceptional customer service. With warehouses across the US, most orders are delivered within one to two business days. For project assistance, reach out to us at contact@magicresin.com and expect a response within one business hour.
Choose Magic Resin for superior epoxy resin products, fast delivery, and outstanding customer support.
Read More
Choose the Right Product for Your Project
Table Top & Art Resin
Art & Craft Resin
2" Deep Pour, Casting & Art Resin
4" Deep Pour, Casting & Art Resin
Title
Description
Cure Time
Mix Ratio (Volume)
Mix Ratio (Weight)
Working Time (Once Poured)
Recommended Pour Depth
Recoat Time
You may pour an additional layer as soon as the current layer has "tacked up". As long as you can dent the product with your fingernails, you will not need to sand. If the product has fully cured, you will need to sand it with fine grit such as 180-220, clean up, and then apply the additional layer.
Viscosity
Heat Resistance
Anti-Yellowing UV Stabilizers & HALS
Glossy
Food Grade
Once cured, this product is food safe as it simply becomes an inert plastic. However, it's not for cutting boards (you don't want plastic chips in your food), and/or for items that are subject to hot content, e.g. the inner linings of tumblers, mugs, or any glass whatsoever (outer linings is fine). Great for trays, cheese & charcuterie boards, tumblers etc.
FREE Delivery
Learn more on our blog
Read this blog post to learn more about selecting the right product for your projects, and managing the room temperature for optimal results.
Epoxy Resin Volume Calculator
Enter the dimensions of your project and the calculator will estimate the volume of resin that your project needs. Ps.: for our floor epoxy, one gallon covers ~200 sq. ft. per coat.
Resistant
The product is scratch-resistant, water-resistant and will not exhibit blushing or sweat out under high humidity conditions. It resists yellowing and will not distort with age. It is also highly resistant to direct heat contact, making the products perfect for projects such as tables, countertops, river tables etc.
Safe
Magic Resin's products are low to no odor and low to no VOC when used as directed. Enjoy this safe epoxy resin for any kind of job at home.
Crystal Clear
The products cure to a clear, high-build, glass-like finish. Perfect for table tops, bar tops, counter tops, deep pours, river tables, casting, and all kinds of artistic applications.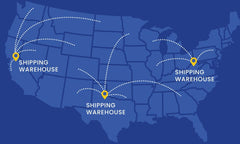 Free & Fast Delivery
We have multiple shipping warehouses across the US, which means that you can expect your delivery to arrive fast, and intact. Most deliveries take one to two business days to show up at your doorsteps. 1-Day delivery to California, Ohio, Michigan, Indiana, Kentucky, West Virginia, Pennsylvania, Illinois, Mississippi, Alabama, Georgia, South Carolina, Tennessee, Texas, Oklahoma, Kansas, and more. Start working and creating your masterpieces sooner rather than later!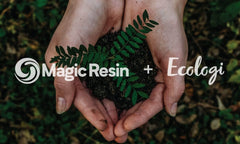 Environmentally Sustainable
As a way to offset carbon emissions, we plant one tree for every single item that you purchase. We have partnered up with Ecologi--you can view the progress of our forest here: Ecologi.com/MagicResin
This product works great, I found when keeping the product at 70 degrees that it mixed the best. Keep the room heated at 80 degrees and the product solidifys faster.

Zack P, Montreal
l make a lot of epoxy river tables and have tried lots of different brands. Magic Resin's deep pour epoxy resin is the best I have stumbled upon.

Andy Jones, Calgary
I really like this epoxy product. It is very easy to use and to even clean after. It dries fast and it is easy to handle the bubbles that form on the surfaces. Buy it now!!

Susan M, Vancouver